beowulf_26
Member
since 06-29-99
Posts 183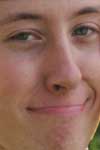 | | |
| --- | --- |
| 0 posted 09-20-1999 03:43 PM | |
---
This is the new revamped version courtesy of all the fine ideas shared in the critical analysis board.

I am frightened at what I see.
A brooding boy.
Shrouded in darkness.
Eyes seething contempt.

Contempt for his own flesh.
Hatred to the loins that spawned him.
Longing for his father.

A father married to his boss.
Shackled by the hate of his clan.
Lashing back.

How could the boy be borne
By this unsubstantial jellyfish
Floating with his own poison?

As the boy looks inside
He is saddened at what he sees.

A crying infant.
Hungry for attention.
Longing for his father.

The newborn looks at the boy
With knowing eyes
That wearily speak of experience
Far beyond his years.

Steely eyes forged by the pain
Of gazing upon caked blood refreshed by tears.
Knowing he could not intervene.

Knowing one day
The winds would shift
And the blows would rain on him.

But better him than his mother.
And better him so that it would
Fortify his resolve.

That when he was big enough,
Strong enough.
There would be no more fury.

Justice would be dealt.
All the pain caused by the beast
Would be reflected.

Oh, would he even fathom the pain?
Or the stiffness in his muscles in anticipation of the blow?
Would that dog?

There will be only
Only whimpering.
Begging for mercy.
Groveling.


The newborn looks
To the boy. The boy,
To the young man who sees his father.

Stripped of his control over a family.
Scrunched as if in the womb.
His chest heaving and wailing.

He pities this blinded shell of a man.
The boy's head drops to the floor.
By some miracle he finds strength.

He forgives.