Tara Simms
Senior Member
since 08-12-99
Posts 1285
Honea Path, SC USA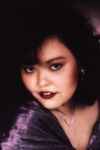 | | |
| --- | --- |
| 0 posted 09-09-99 10:09 PM | |
---
Stolen Innocence

You beat down my will,
stole my innocence,
ripped the tenderness from my soul.
I watched you assault my sister
Then lived through the brutality myself.

For years I thought I was to blame
for not being strong enough
to fight you off.
I could've screamed louder,
(would anyone have heard my pain?).
Should've kicked and hit a little more,
(would my 4 year old strength have been enough?).

I wished you dead.
And suddenly you were.

For years I thought I'd killed you with my hate.
It's taken til now, to realize that you'd killed the little boy I was,
And the man I could've been.

Burn in hell, you bastard.



******************

I wrote this for one of my students. I only hope and pray that he will someday find peace with his past and forgiveness in his heart. His rage is tearing him apart and it kills me to watch his self destruction. May he find the strength to heal.