Seymour Tabin
Member Empyrean
since 07-07-99
Posts 32119
Tamarac Fla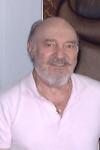 | | |
| --- | --- |
| 0 posted 09-08-99 10:56 PM | |
---
Hope

Death spins the weight of a sword,
A guillotine held by the thread of a cord.
It sways by the mythical hold of a hair,
Fragile as a bubble with a rainbow declare.
Meager, thin, narrow and slim,
It bears weight by the scantiest of whim
And wearied and worried brings on despair.
And hope is a refuge of short declare,
Belief, the sooth of grief, promises balm.
Hope is but a voucher on calm,
A handle on depravation.
It is cheer painted a cheerless future.
This is the bright, of the light side.
Apathy, the dark the night side.
The dash of impossible,
The sloth of improbable,
If we drink the lead broth of lethargy
Lean on the crooked cane of torpor,
We will live the life of a pauper.
Be a Damocles, with a hope o'er your head
And damn you the sword, that swings by a thread.