Seymour Tabin
Member Empyrean
since 07-07-99
Posts 32119
Tamarac Fla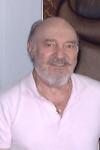 | | |
| --- | --- |
| 0 posted 09-07-99 11:19 AM | |
---
Still young at heart

How shall I describe her presence?
I could say it starts with my nose.
My nasal corridor clogs and
The air in passage to lungs, slows.

My eyes glare in a vacant stare,
For I have now forgot to blink.
I feel embarrassed to be there
And it seems I physically shrink.

My head begins to oscillate,
Side to side, erratic cadence.
And my skin becomes moist and wet,
My tongue dry, to all purveyance.

I feel, I feel squirmy inside,
There are worms crawling in my chest.
That I can easily explain,
When my eyes drift by her cleaved breasts.

Ill at ease, a mild description.
I turn from raw to pink to red,
Like roasted and tacit toasted.
And a little light in the head.

These are the passions I cannot stay.
Nor can I ignore them away.
All passions of the young at heart
And I thought I was past that part?