Seymour Tabin
Member Empyrean
since 07-07-99
Posts 32119
Tamarac Fla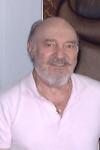 | | |
| --- | --- |
| 0 posted 09-06-99 11:11 AM | |
---
Trivia

Trivia is hard to align,
In proper benign.
Trivia is not trivia when
Properly defined.
It enters conversation as
Inconsequential.
But it can lean on you as a
Focal essential.
When adding or subtracting
To a clever view.
Its importance is in direct
Affiliation,
To the essence of the matter
Former or latter.
The weight of trivia I'd say
Is undetermined.
It can weigh a feather or pound and
Turn justice around.
Trivia lays in a graveyard
Without much regard.
But rises up like a flower,
To add its power.
Lays as planted as any field.
With a third eye yield.
Trivia is a pot of gold
Called on by the old.