Gale
Senior Member
since 06-10-2013
Posts 567
Russia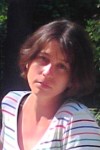 | | |
| --- | --- |
| 0 posted 07-21-2013 10:29 AM | |
---
I'm very sorry if you find it hard to read. I'm not a writer.
It's just a fragment of the letter to my friend, which I wrote about 4 years ago.
Nothing serious, but I like the idea and want to share it with you.
.
.
.
.
Do you want me… to tell you one story about the first man and the first woman?
Seems their names were Adam and Eva and they were victims of the Divine experiment. God was bored in his perfection like an atom of helium, and obviously for this blessed reason he invented to upgrade his nature. He had used duality principle and created that first couple. The man was made on the basis of some monkey's genome at once and without any improvement, but the woman had turned out well only from the second attempt. The very first example didn't want to cross, and since the man had more fragile construction, God left him and improved her.
First they lived in a very comfortable environment called Eden and had everything except self-dependency, but they were quite happy children, and God looked at them thinking: "For what reason I made them? My experiment wasn't very successful for I see that they are even sillier than I am. And what can they do, if they have no interests besides simple existence? I ordered them to live according to my rules and they live. And nothing's happening in their brains."
Oh God, he didn't know whom he created!

So he was bored with his children and once had invented to play one game.
It was a perfect Divine provocation. He grew a miraculous tree, the tree of knowledge of good and evil. He reasoned that it would be a good idea, if his children were interested in their own nature (and in the nature of things in general). You can imagine what happened next. Kind God showed his children the tree and put his taboo on its fruits.
"This is not a childish thing to know what is good and what is bad", - he said and left.

But God's children were not as silly as their father thought (or maybe he never supposed them to be hopeless, and I've only fancied it?). So when the accessible part of their place of living was explored, they turned to the forbidden tree. And Eva had instigated her friend to try and experience something new. I don't know if the snake was a part of God's plan, or it was an allegory indeed, a symbol of Eva's desire for learning. She obviously was like me in some sense, because I would try it too. Just for the scientific interest!
But Adam was organized differently. Maybe he was curious as well, but at the same time he was more dutiful, than his light-minded girlfriend. So for him it was a matter of his independence.
Well, they had done it, and God kicked them out of parent's home.

No, I don't think he was angry. I think he felt happy and proud at last, and rubbed his hands with joy. Children not just showed their interest to fundamentals of Universe but even weren't frightened of punishment. He decided that they are matured enough to be sent into the best of all possible worlds. The tree was a camouflage of course. God said: "If you want to know Good and Evil, then go and try it yourself, because I've already given you all I have, but I can't put into your heads those things which I don't realize well myself. Go and try, my beloved children, and when you get known it, then come back to me and tell everything! I hope that together you can reveal something interesting!
And since that time first people and their children and further according to the list try to realize their divine knowledge, which they took from God, and get known what else can be in the World that God doesn't know yet.


I'll tell you about the main God's present. People had received unlimited freedom of the will. And although God inscribed his memory into their DNA, he had liberated human mind from his own divine prejudice to let them get new knowledge. Of course instead of God's stereotypes people easily acquire their own prejudice, but at least they are not obligated to live with them forever and can change their mind. And also God gave people a creative ability like he had himself (he isn't greedy, that guy!), so people can do not just everything they want to do, but also they can make what their imagination let them make. They had only to realize themselves, and what to do, and what to create. And still the main their questions are "who am I?", "what do I want?" and "how to achieve it?"
By the way people have some special gender features influencing on their roles in process of learning. Men find new knowledge, and women collect and sort it, reserving useful information and rejecting false one.
I think it should be somewhat like that.


2009
.