Kaoru




Member Elite
since 06-07-2003
Posts 3923
where the wild flowers grow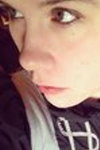 | | |
| --- | --- |
| 0 posted 11-05-2005 05:37 AM | |
---

There are times when conversation becomes silent and psychic. When electricity combines two people, like elements, some meld together so perfectly, others..well, you know..

The clock winds so quickly..days, months and years can go by..without words that have substance, without love or desire...we felt that, for awhile, we lost that..

"Sometimes, I still feel the scars burning.."

"As do I, but it's over now.."

"My mind won't allow me to forget things so quickly..it's not that I still feel anger, all that's left is memories and guilt.."

"Well, it's simple, cease to feel.."

"That's impossible, you know that. I am incapable of being numb, that's our only difference.."

"But you know I still love you.."

"I still love you, too."

"Why do you feel guilt, then?"

"Because I forgot for one instant, for one moment..that is enough for me."