1slick_lady
Member Ascendant
since 12-22-2000
Posts 6147
standing on a shadow's lace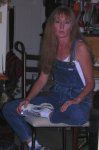 | | |
| --- | --- |
| 0 posted 10-16-2002 04:16 PM | |
---

Wicks And Sticks


In every relationship, everybody brings something. Be it good or bad. My father's family brought stability with money and power in the community. My mother brought the sight.
The sight has been in my family as long as I can remember passed down from generation to generation, and only to the women. And not all the women end up with the sight. But my mother had it.
What can I say about the sight? The sight was given to the children of the light. In the sight you know things about others and places that no one tells you about, but YOU KNOW. Sight is deeper and stronger than knowing the future and it is dead on, every time. It is not like you know something all the time- it chooses when to reveal its self to you. And you KNOW. YOU JUST KNOW. So no amount of trying to deny it is worth the effort.
The woods of Mississippi of old are filled with lacy secrets. Secrets never told. Growing up there webbed me to things others will never know but I carry them in my soul to pass them to generations next.
My mother was a woman of simple elegance. She preferred the earth to glitter. But everywhere she stepped beauty could be found. She could see right to the heart of things and people, even when they were not around her. She said it was like a cold breeze passing across her neck.
There were so many things I did not understand about "the children of the light". But being one (as my mother would tell me) I had to know. She took me places with her teaching without saying a word. She told me once that all is drawn to the light, even darkness. She said darkness draws its self in close to the light to take it. As a girl there was so much I did not understand.
I would watch my mother. She was a magnet. All were drawn to her. A heart of purity that loved deep and bold. She spoke kindly to those who others would pass by. She also spoke to those that were undeserving of her speech. But it was her way.
The eve of my seventh birthday I could not find my mother in the house anywhere. Lucy the oversized happiness that cleaned our house and cooked was there but no mother. I ran outside afraid and found her next to a fire that burned green. The fire held nothing but pinecones and my mother watched it as it burned in silence. I too kept my silence for a while for she did not see me. Then broke it with questions. Childish questions and adult questions. "Are you going to brush my hair?" "Why are you out here by yourself?" "Why didn't you wake me up?" "What has happened?" "Will I get my skates?" "Why does the fire burn green?" "Are you alright?" My mother touched my face and left the fire and headed back to the house without a word. I followed like a baby duck, walking in her steps as closely as I could. Maybe I was trying to feel what she felt. She went into the kitchen ignoring Lucy by the stove and put a pan of water on and took the brush and started brushing my hair. Her silence was unusual, for she was always bubbling.
I saw something in my mother's eyes I had never seen. It was pain. The pain only a heart can cause. She said that there was something she had to do, but she would have to wait, for it was the eve of my birth and that tonight the moon would loop and it was not right to do it tonight. She said the next night we had to go visit someone. She said, "I want you there to see but I want back as not to be touched by it." I didn't understand but I was always thrilled to go anywhere with her for she was my second skin
My birthday came with much fanfare. Pink and purple. Colors I hate to this day. We had fried chicken and relatives came bearing gifts in tissue paper tied with brightly colored hair ribbons for later. The prized gift was there and my mother seemed preoccupied with the day and I felt some uncomforting wind flowing through the house. Later when all had gone except my papaw and mother and father, my papaw helped me put my skates on with no argument from my mother or father and let me skate on the hard wood floor in the dinning room ducking under the huge oak table as I skated briskly next to his chair.
He was chewing on a red round cinnamon ball, the candy he always kept in his pocket. He said, "here girl, chew on one of these." So I popped it in my mouth and off I went around the table, trying to go as fast as I could for I knew after he left there would be no skating in the house. Round and round I went. And my mother never once gave me the evil eye. I skated next to her as she sat smoking her cigarette drinking coffee in silence listening to my father and grandfather talk of the day. I thought if I ducked under the table next to her she would stop the silence and the uninvited wind would go away. I bent down as far as I could to slide under the table but when I did I lost my balance and fell to the floor swallowing the red candy gasping for air. It had stuck in my throat and I couldn't breathe. My mother jumped up spilling her coffee calling Lucy to clean up the mess and screaming at my father and grand father to help me. My father picked me up by my ankles and papaw struck my back with a hard blow. Out flew the candy. I sat crying on the floor as my mother took off the skates.
My grand father told my mother that he needed my father for a few hours and he would be home later. My mother put up no objections for she had plans of her own. My father kissed my mother's cheek and the men left as Lucy helped my mother clear the table of dishes. Lucy was up to her armpits in bubbles as my mother led me through the kitchen. "Lucy turn off all the lights when you are done except the one in the kitchen when you leave. I have an errand to run and won't be back till later." Lucy said, "yes 'em" scooped me up in her plump arms and gave me her sugar saying, "little Mam, I will see you tomorrow." And with that we were off.
Outside sat my mothers powder blue Falcon. She loved that car. My father said it was a shameful thing but she loved it. We piled into the front seat of it and off we flew into the night. I didn't know where we were going but didn't care. I was with her. We drove till we reached the other side of town. The part my papaw called "the other side of the tracks".
My mother parked the Falcon in the lower drive of a gray run down house. The drive was rocks and I could hear every step of my black paten leather shoes tapping as I walked. The front porch light turned on as we walked closer to the porch. Out stepped a woman of raven hair. She folded her arms against her waist and waited. It was almost as she knew we were coming. My mother took a few more steps and said, "Baby wait here. Do not come any closer." And looked at me with that look that I knew she meant business. I planted myself. I watched the woman as my mother walked. Her hair as dark as a starless night. Her face held no color. She was alluring to sight but no beauty. Around her I saw something but wasn't sure what it was. My mother went on up the drive and on the porch. All of a sudden I felt a funny feeling.
My mother asked the woman if she knew who she was. The woman told her she had an idea, looking down at the ground, but didn't know her. My mother broke into the woman's voice as she spoke saying, " I am the daughter of Ruth, grand daughter of Elizabeth and niece to Beulah. Do you know them?" the woman shook her head yes without saying a word. Some circles KNOW others without KNOWING the other. My mother told the woman she had a dark soul and that she was a child of the light with a message. She said, "Gypsy- BEWARE. I know your selfish heart. You pull things in that are not for you in your bitterness you want them as yours. But you are at a cross road in your life and things can go differently. Things for you can be different but it is your choice. If you keep on this path you will be left in tears and blood shed damning your soul. Or you can have a peace unknown to you before with love everlasting. I tell you this…your children will make you bleed and the men will leave you roaming." "The woman took a few steps back and said, "you may be right but I am happy as I am and will take what I want. Be off with you and your curse."
My mother stepped off the last step turning around looking the woman left there in the eye saying, "Remember my words after I am gone. Beware. Beware." We didn't talk of any of this on the drive home, but it swirled around in my mind, and I wondered what it was about.
Months after the night of my birthday my mother died of cancer. She died in great pain. Cancer was not the cause of her pain. But pain of a broken heart is a great hurt. Years later I heard the woman in the gray house married and her husband ran all over town leaving her to be alone and bitter. Her children were a great source of pain in and out of trouble all the time. Finally leaving her to be alone without any word from them.
Today my home is filled with the earth's sticks and wicks. The wax I prefer is white. And I know the feeling of cold blowing across the back of my own neck.

<!signature-->

I'm not disappointed, I never expected anything from you.