Lori Grosser Rhoden
Member Rara Avis
since 10-10-2009
Posts 8474
Fair to middlin'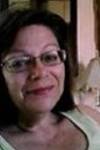 | | |
| --- | --- |
| 0 posted 12-01-2017 11:23 AM | |
---
This is a poem about nothing at all
because my mind is blank.
I am echoing from ear to ear.
Not even the cobwebs
have anything to contribute
to the thought processes.
I close my eyes to concentrate
and my chin falls to my chest.
My breathing deepens
but my thoughts donít.
The only thing I can
fill my thought bubble with
is ZZZZZZZZZZZZZZZ.
A couple of toothpicks later,
and my eyes are open
and unblinking.
I can see clearly
but my thinking is opaque.
My stomach is talking,
it wants cake.
Without a first or second thought
itís yogurt I brought
and yogurt I will have too.
My stomach will have to make due.
Yes, my mind is empty,
itís a big ole goose egg,
hollow as a wooden leg.
Amazing what I can write
about nothing,
it is the one thing I have
more than enough of.