Lori Grosser Rhoden
Member Rara Avis
since 10-10-2009
Posts 8194
Fair to middlin'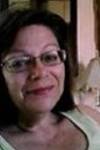 | | |
| --- | --- |
| 0 posted 09-24-2017 10:28 AM | |
---
I feel him slipping through my fingers
a little more each day.
Less and less my words hold sway.
I live with the dread
of waking up and he is dead.
His mind defeated,
his body depleted,
wanting so badly to be well.
Treatment was hell.
Recovery painfully slow
Fighting what he doesn't know
how to overcome with his tools.
Nothing follows his rules
or expectations,
creating frustrations
and foul moods
as he tries different foods
to get down his throat.
Stubborn as a goat
with no appetite,
it is always a fight
just to eat like a bird.
How many times I've heard
"This tastes funny."
" I know, Honey."
"I can't swallow it,
no saliva won't allow it"
And I just want to say,
"Eat it anyway!!
I'm losing you
and there's nothing I can do!"
There is no giving helpful advice.
It's all I can do to be nice.
I'm scared and at a loss.
I wish I was boss.