Lori Grosser Rhoden
Member Rara Avis
since 10-10-2009
Posts 7964
Fair to middlin'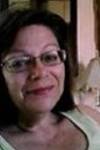 | | |
| --- | --- |
| 0 posted 07-10-2017 05:07 AM | |
---

It is only a matter of hours now
until we say goodbye.
This will be our first time apart
and already the tears are flowing.
I know he is going to miss me
and wonder if I知 ever coming back.
It breaks my heart to worry him so.
I know it is only for a few days,
But how does he know that?
For all I know, he値l think
he is back at the pound.
Bless his poor little heart.
He値l be taking his own little bed
and his kennel so he won稚 feel
so far from home.
But I値l feel so far from him.
He won稚 have anyone
to give him lovin痴 and kisses,
to shake his hand
and give him treats.
Who is going to chase him
around the coffee table
and play hide and seek?
Who is going to comfort him
if there is a thunder storm?
Oh I know he値l be better off there
than with us.
He goes nuts when we leave him in the car,
or a motel room or the RV.
I知 a big blubbering mess
that is beginning to think
this is going to be easier on him than me.