Lori Grosser Rhoden
Member Rara Avis
since 10-10-2009
Posts 7964
Fair to middlin'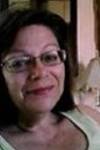 | | |
| --- | --- |
| 0 posted 07-09-2017 02:06 PM | |
---

The cat and dog have received
their flea and tick repellent.
And it is obviously working well.
Thus far Iíve found three ticks,
all of which were unattached.
Two were creepy crawling on me,
and one was dead in my underwear.
Needless to say I have developed
a bad case of the heebeegeebees.
Every little hair askew on my neck
is a tick.
So is a little patch of dry skin
on my leg or arm.
A sudden itch on my back
is a tick attack.
My flesh is on high alert,
my scalp pulling double duty
and the heebeegeebees
messing with my mind.
I canít help but shudder
at the slightest touch.
I hate the hebeegeebees
so much.