Lori Grosser Rhoden
Member Rara Avis
since 10-10-2009
Posts 7932
Fair to middlin'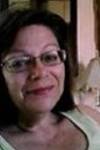 | | |
| --- | --- |
| 0 posted 07-06-2017 08:44 AM | |
---
This morning Winston and me
set off on our walk
like we always do.
We hadn't gotten very far
when I felt fur
brush against my leg.
It was Mizz Kitty
and she wanted to come along.
So off we went,
Winston, Mizz Kitty and me.
Mizz Kitty stayed close
to the edge of the road,
often times even with Winston.
We walked a little slower
so she could keep up.
And keep up she did
until she decided
she'd gone far enough
away from home.
She sat down at the side of the road
and would go no further.
Winston and I walked on.
I would occasionally look back
To see if she was still there,
and she was.
But she wasn't happy
about being left behind.
I could hear her start to meow.
There she was sitting in the middle of the road
and really beginning to howl.
There was nothing else to do
but turn around and go back.
So we did as fast as our legs would go.
She fell right in step
when we reached her.
Then we just walked back home
like this happens every day,
with Mizz Kitty in the lead.
When we reached the driveway,
I took off Winston's leash.
They followed me to the garage
to get a bottle of water,
then into the house we went.
Winston was happy to get a drink
then flop down on the floor.
But Mizz Kitty wanted much, much more.
Soon as I sat down
I had a lap full of cat
wanting ears and back scratched.
She leaves little doubt
as she sticks one toe nail out
and deftly snags your hand
and brings it about
to her ear.
When she is ready to have
her back done,
that is easy to see.
She sticks her tail straight up
and quivers it at me.
She raises her rear end
until she is on her tip toes.
And if I don't get to it quick enough
to her satisfaction,
she'll start in with that kneading action
front legs and back.
As she tap dances her toe nails
into my thighs,
she has me well trained I realize.
So Winston is sleeping on the couch
and Mizz Kitty is a snooze
in her favorite hidey hole.
As for myself I could use a few z's
the walk having taken its toll.
Winston, Mizz Kitty and me
are contented as we can be.