Lori Grosser Rhoden
Member Rara Avis
since 10-10-2009
Posts 7918
Fair to middlin'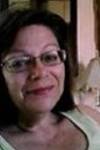 | | |
| --- | --- |
| 0 posted 07-03-2017 05:05 AM | |
---

Youíd never guess his age
by the way he walks.
He keeps a brisk pace
with a smile on his face.
Itís easy to see
he walks faster than me.
Very little distracts him,
he is not much for talks.
He is still a man of courage,
not frightened on a whim.
He can do near a mile
still going strong.
He makes me smile.
Poor thing his sight is dim.
canít see the rabbit
right in front of him,
let alone grab it.
The birds think his nameís Bob White.
they call from the trees
when we come in sight.
I donít know about you,
I donít think he notices the view.
All he sees
is in front of his nose;
butterflies, bugs, bees
and his little black toes.
They tip tap a cadence
until we come to a fence
where he does his duty,
and leaves a calling card of poopty.
He is so proud of his accomplishment
youíd think he built a monument.
He is happy and carefree
as he walks along with me.
I donít think heíd care,
we could walk anywhere.
I love to watch his little tail wiggle,
he is so cute he makes me giggle.
Youíd never guess his age
by the way he walks.