jwesley
Member Rara Avis
since 04-30-2000
Posts 7170
Spring, Texas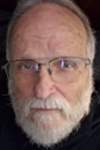 | | |
| --- | --- |
| 0 posted 06-25-2017 01:41 PM | |
---
I Should Have


I died
and went to heaven,
and was so shocked
I begged to be dropped
below
but they wouldn't do it,
said I deserved more
than that;
but I left you to die,
at home, alone,
while I went to the store
for a few bottles
of beer.
I left you to die,
alone,
and hell is where
I belong,
with the others
of my kind.

I don't care
how long ago it was,
I don't care
that you were dead
long before I left,
I don't care
if you were in an
unresponsive state of life,
if machines kept you alive,
if your mind was in
some other-where,
if . . . if . . .
I just don't care.

I wasn't there when you died,
and I should have been.
.
.
.


wesley james beard, jr.
Hope this comes across more as a "love" piece, rather than a "sadness" piece, but as long as it works somewhere, I'll take it.

j.

[This message has been edited by jwesley (06-25-2017 08:23 PM).]