jwesley
Member Rara Avis
since 04-30-2000
Posts 7130
Texas . . .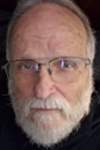 | | |
| --- | --- |
| 0 posted 05-22-2017 02:28 PM | |
---

Whether

Sitting in a bar, tipsy,
warm, wanting,
swirling her on the dance floor,
seeing her in my mind, bare,
and beautiful,
the effervescent soul of her
saying, I want you. . . tonight.

Whether I go with her,
or don't.
Whether I languish in her arms,
or sleep alone.
Whether my heart can deal
with the sun coming through the window,
whoever's it is.
Whether I stay true to myself,
or just don't give a damn,
and prove I'm stereotypical man.

Whether -

with all the stormy portents ,
the destruction, the misery
the rendering of everything I value.

I slowly release her,
as the tempestuous tones of
"When A Man Loves A Woman",
fades, and we breathe again.

I lead her back to the bar,
toss a few bills next to our drinks,
smile at her question,
and go home -

to my wife,

to the angry argument we had,
a bump in the road,
not a death in the family.

And then, looking up at the sky,
with all it's sparkling beauty,
I thank God -
for saving me again.
.
.
.

© wesley james beard, jr.