broken_smile1469
Member
since 07-02-2006
Posts 104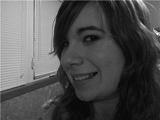 ---

I remember laying in my room, talking for hours
I'll never forget those late nights
We were really best friends through it all.
Boys who made us cry and all those fights

I remember you were the only one who understood
I loved you with my heart and soul.
The one person i could tell anything to.
I hope this is something you already know.

I remember the day that i found out.
i didn't know what to say.. or do.
inside all i could do was scream and shout.
but on the outside i had to stay strong for you.

I remember sitting next to you
holding your hand, and we'd pray.
I prayed that this was something you'd get through
but nothing would ever be the same.

I hated how I found out.
I didn't get to say goodbye
I know that you're happy, up in heaven.
chillin with God on the other side.

You're an angel Sarah, you really are.
You weren't perfect, but who is?
We were a lot a like in so many ways.
You're someone i'm really going to miss

Why did it have to be you
seems like just yesterday we were together
laughing and having fun
I wish it could have been like that forever.

You're too far away though.
Now you're in a better place.
I know you see how much you're missed.
but we'll all see you again someday.