Falling rain




Member Elite
since 01-31-2008
Posts 2165
Small town, Illinois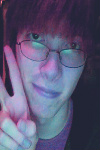 ---

It could just be me..
I could be selfish in every way..
But deep inside I want love
Maybe that's too much to say..

Can I be honest for once?
Would you care to see what's on my mind?
I long for the warm feelings..
After being so cold, I felt left behind

I spent many hours in darkness
And was trapped inside my head
I changed my tune and gained a voice
Now the tough exteriors left to shed

For I feel the warmth I once forgot
Last on the breath of lovers words
Yet i feel that I'm forgotten now
No ear to have me heard...

I could be greedy in wanting more
Or should my lonely heart be justified?
To be forsaken by loves touch
And play the rules set and abide?

I feel the urge in my hand
To grasp another and feel at peace
In hope you'll be my sanctuary
In hope my pain will cease

Maybe I'm sick deep inside
So in time I must get well
Until then I'll mourn with tears
There with time will only tell..

----------------------------------------
Haven't written anything in a while. This is what I came up with.