Falling rain




Member Elite
since 01-31-2008
Posts 2165
Small town, Illinois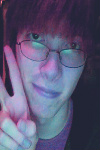 | | |
| --- | --- |
| 0 posted 04-28-2010 11:56 AM | |
---
Was inspired by Emilie Autumn's song, What If. Some lines won't make sense to some. But over all this is basically me. Enjoy?

----------------------------------
Take a glance and make believe
That I'm everything you perceive
Yet I'm different and insecure
What if I'm the disease to your cure?

What if I was the unexpected?
Something lying undetected
Under your scope. Icy cold
Struggling under what I'm told

You have me figured out
So sure what I'm about
What if I'm everything your not?
The truths afraid to be sought

What if I'm the unexplained?
What if I'm unholy and profaned?
Would you care to share your love
To know that your much higher up above?

Would take a seat and chat
About what I think about this and that
Please don't think I'm bland
Would you take the time to understand?