Falling rain




Member Elite
since 01-31-2008
Posts 2165
Small town, Illinois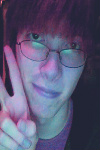 ---
Its wrong when men cry
Its weakness in everyone else eyes
With lips sealed; eyes dry
Nobody will notice when I sigh

Can they hear the sorrow
That lingers onto tomorrow?
Do they notice in my voice
That I wish there was a choice?

No nobody knows but me
When I question why they can't see
When everyone lies in their bed
I push through with words unsaid

No nobody knows but me..