pen&paper
Senior Member
since 06-06-2006
Posts 519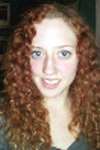 | | |
| --- | --- |
| 0 posted 11-11-2009 07:42 PM | |
---
Can you see her?
The girl with those sad, cold, haunted eyes
Can you hear her?
The words she sings
The way she speaks
What do you feel when she walks by?

Sometimes I wonder
What exactly went wrong
Somehow I know
She once was the words to your song

She was quite the nice distraction
You were heaven in her eyes
She hung to your every word
The way she laughed
The way she spoke
Do you remember the way
That distant girl used to be?
She sees you
She remembers

Sometimes I wonder
How she could've done so much wrong
Somehow I know
You were the words
To her favourite song

Did you really love that girl?
When she had those wide, innocent eyes?
Did you hear the words she said?
She talked about you
Thinks bout you
Couldn't and sometimes Canít stand beiní without you


Remember how you looked into her wide, innocent, icy-blue eyes?
And told her
She was everything you ever wanted
You remembered every golden word she ever said
You couldn't stand being without her
You wanted to start and never end
Can you see yourself in those sad, cold, haunted eyes?