Falling rain




Member Elite
since 01-31-2008
Posts 2165
Small town, Illinois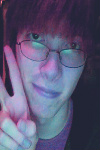 ---

Florescent lights flicker
The room stay's cold
I feel my bones ache
But can't keep their hold

The air; frigid
As its drawn into my lung
The tensions killing me
Biting down on my tongue

IV in my arm
Needles prodding my skin
Nurses asking questions
Like I care when it begin?

Crimson in vials
While I'm dressed in a gown
Skin clammy; paper white
Another one of your clowns

Managing to smile
As the doctor appears
Benevolent in white
worrying me with fear

Whats the verdict?
Come'on. Spit it out.
Your silence is deadly
Filling me with doubt..