Just.Another.Falling.Star
Member
since 05-08-2008
Posts 427
Canada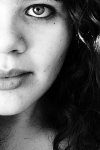 | | |
| --- | --- |
| 0 posted 08-29-2009 08:02 PM | |
---
There's a girl
in a big brick house
quietly crying tears of pain.
It's all she can do.

No one understands her,
they all make fun
and don't realize her agony.
She's finished crying now.

While she walks to the mirror,
she looks at herself in horror.
"How could anyone love me?"
she says to herself.

"I'm just another mistake,
no on wants me anymore."
She goes on and on until she decides,
"I'll make it stop, I know I can."

The ivory color of the toilet bowl,
calls out her name over and over.
She walks towards it--lifts the lid,
and she's on her journey to becoming beautiful.

For months she purged her soul
into her mission,
she knew in the end it would be worth it,
she would be worth it.

Too bad she didn't think
about what would happen
when she didn't s t o p.
She's almost gone now.

This isn't what she wanted...
I know so.
So told me herself when she disappeared,
and I couldn't say another word.

I can't believe I almost made that mistake,
luckily I had my friends,
to help me through it all,
even when I didn't want them.<!signature-->

julianna

.:.:~]you clicked your heals and wished for me[~:.:.