poddarku
Senior Member
since 01-15-2008
Posts 589
india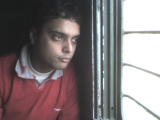 ---

Ten years old world
-
Infighting between cyborgs
is yet to be appeased,
but with a jerk windows' panes
flash a secret signal that
convinces her, it's morning.
She wears her attitude
of which she is quite proud;
it has kept the boys and
her parents too at a bay.
The cereals are dull like
those papers of morning news.
The news have taken a tour
of thousand miles and fathoms
to nestle a dragonfly,
now waiting to be noticed
by a ten years old lady
busy in her chat on cell.

=© 2009 - All Rights Reserved Kushal Poddar

<!signature-->

clever talks delay friendship!