Just.Another.Falling.Star
Member
since 05-08-2008
Posts 427
Canada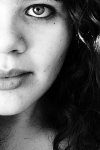 ---
This is an atempt to lose a writers block. And I know this doesn't really belong in teen because of its spirituality, but I just felt like sharing it with you. If you don't believe, please just tell me what you think of the writing, thanks.
______________________________________________________

Cold winds blow tonight
while the silent heart weeps.
She's lost all she had,
now a broken heart remains.

Another story about her
spreads through the cobblestone streets.
Everyone thinks they know her,
they all think she's worthless.

Its unfair that no one
will believe the truth she'll tell.
A victim of rape.
Not just the village slut.

This beautiful woman
won't live through tonight.
The stones she'll have thrown,
aren't like the ocean's kisses.

So now as she goes into public,
to meet death in the face...
something more surrounds her--
someone's here to save her.

As the first rock flies,
she feels nothing,
for God's arms graciously
hug His broken child.

The woman was saved that day,
and she'll live to tell her story.
God is working here,
He's bringing her home.


<!signature-->

julianna

.:.:~]you clicked your heals and wished for me[~:.:.