Just.Another.Falling.Star
Member
since 05-08-2008
Posts 427
Canada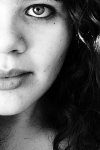 | | |
| --- | --- |
| 0 posted 06-07-2009 03:23 PM | |
---
Each morning she awoke
to dress herself with a smile,
to look in the mirror and make herself
believe she was presentable.

This was a routine now,
everyday was the same.
With the fake smile on her face,
no one noticed her pain.

It might have been a day,
or it might have been a year,
but time stood still
while she shed another tear.

After the tissue wiped her eyes,
she had to remember to look on...
past all she'd been through
and carry on until tomorrow.

Now while she makes her way
down the school hallways,
to fifth period class
she shivers in regret.

No one knows what lies beneath
the watch she wears everyday.
No one realizes what she's done,
to try and make it disappear.

There will be no more pain
in this girls life,
as someone walks over
to lend a helping hand.

With a simple smile from him,
and the look his eyes sent her...
the wall she built up
came tumbling down.

So there she sat,
silently weeping in his arms
as he whispered to her
"It'll be okay, I can help."

While she started to regain herself,
she knew she could go one.
She had someone to trust
with her deepest and darkest secrets.

Now as the day ends
and she's sliding into bed again,
she can sleep in peace,
knowing those scars are gone for good.<!signature-->

julianna

.:.:~]you clicked your heals and wished for me[~:.:.