Just.Another.Falling.Star
Member
since 05-08-2008
Posts 427
Canada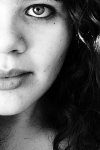 ---
This is an attempt, nothing more. I was sort of inspired by the song My Name Is Trouble by Nightmare Of You. I just twisted it a bit...hope you like it.
_________________________________________________________________



Step, step, step...
and with that,
I move forward;
past everyone else.

These streets are a blur
while I start to run.
I can't focus,
I can't remember.

All I need is you,
I need to hold your hand,
to know that I'll be safe.
The world is after me.

I don't care about that,
all I need is you,
with me forever.
Thats it.

This is the last time,
that I'll be here.
I'm leaving this place,
will you come with me?

By the look on your face,
the answer is obvious.
All I need is you,
forever, thats it.
<!signature-->

julianna

.:.:~]you clicked your heals and wished for me[~:.:.