Just.Another.Falling.Star
Member
since 05-08-2008
Posts 427
Canada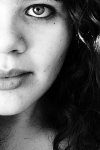 | | |
| --- | --- |
| 0 posted 04-06-2009 06:17 PM | |
---
Walking down this busy hallway
all I see is your eyes in mine.
Smoldering love is whats brewing,
an interlock of hands brings me to you.

"I want to know you more..."
is all you needed to say to start us.
How could I be so lucky
to have you in my life?

Feet shuffling along the floor,
as I skip to your side.
Slowly but surely this dance begins,
and all I see is the love in your eyes.

Here we are now,
dancing in the deadbeat mall,
under the light of the bright flourescents,
a twitch of our lips brings us together.

"So are you two official yet?"
is such an understatement to how we are.
The way your arm wraps around my waist,
whenever I shiver from the cold...

The way you always know whats wrong
before you even hear my voice.
It's all so wonderful,
how can it be real?

The fact is its not...
just another knock on the door
and this dream of love ends,
while I wait for another one to begin.
<!signature-->

julianna

.:.:~]you clicked your heals and wished for me[~:.:.