pen&paper
Senior Member
since 06-06-2006
Posts 519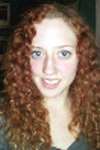 ---
How is it that you see me as perfection?
Mirror gazing...flaws outnumber features by far.
I see not an angel, as you say I am,
But a demon damned...from Hell, even, barred.

I wonder at us sometimes.
We're polar opposites you and I.
Though I believe we love Love and in that each other,
More than Life, Liberty, or of the sort,anything else.

We are odd, you and I.
Neither one of us can understand the image the other holds.
Perfection seemingly untainted, regardless of what the world throws.
And time continues to mock us, neither slowing nor passing by.

I love you, don't you know?
Each day,each hour,each minute,each second that love continues to grow.
I fear I wouldn't survive we're you to leave me.
And I know you wouldn't.

I don't know how you see me an angel,
When it's obvious it's you,
Forever you amaze me...my life, my heart, my soul...
Belong to you.