xEmperorEmber
Member
since 03-28-2000
Posts 141
tx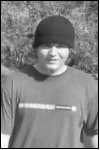 | | |
| --- | --- |
| 0 posted 11-29-2011 03:39 PM | |
---

Eager was I
When first set I stood
In youth
To traverse the plains of fact
Though thought well stood - Mis.

Though now the derivative of ailment
Sees me cycle through
Back round through the bottom
To the core, I implore you

Again.

I was dying, you know?
Then got better.
To go with my voodoo suit for you.

Voodoo here where the face
Breaks the leaden threats
Perpetrated by steel demands
Barreled through the end of his violent pipe - Yet?

Now we're propped in solidarity
Against the many hands
And though they seek to rip
What is yours through pain
And procedure
I will fight the hands
Which all at once
And paid in spades
Are only as eager as that pair which
I wielded in youth.

I will protect you.
I know the tricks.

I have long since been done with abuse.
I sharpen my teeth on stone; not bones.
I have turned to see this now as
Rash behavior from children
Men and Women, both, and all at once

I foil them all for you!

In age I have yielded, to give way
To cyclic form of self
The diameter of which grows
With each passing revolution
The diameter of which defines
My capacity for all things

Less a pursuit of fact, for me,
And an acknowledgement of said cycles

Patterning again
Holding again

You and me at TDC, ready to start again.

After 7 years of COMPLETE silence I reached down
For you unannounced. Out of something blue.
Like I said I would, 11 years back:

"I will always have the right to take you from anyone, anytime, anywhere, and no matter what."

And you remembered my words that night
With the police, at his house, unannounced.
Unaware.

How did I know?
But I did
And... I did
So I did.

His bands were discarded, instantly.
Cut free were you by me.
And his rapes just memory.
His child calls me father.
Your name is your name again
Which will soon be our name
So that you never have to be owned
The three of us
With him long since forgotten
Though I prompt her to reserve
That place for him
But by choice of her child's mind
I am in the frame
And he is gone.

I am the biggest vulture now out of three
on the zippo.

I eat the daddy noodles.

In a tar ditch with a needle in his violent arm
We will forget him.

I came back for you.
Like I said I would.

I did.
I did.

And you are clean.
And you are calm.
And never more beautiful.