iliana
Member Patricius
since 12-05-2003
Posts 13488
USA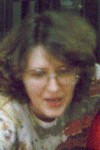 | | |
| --- | --- |
| 0 posted 12-09-2007 10:19 PM | |
---
Blindfolded,
blind and folded
into creases of time,
long hours rehearsing,
this rhyme,
the thrower and
the assistant,
precision's cold embrace.
Him throwing,
her frozen
daring not to breath,
to move,
to speak.
Dodging his blades
by remaining invisible,
untouched,
she is saved.
While he attempts to engrave her
with his being,
his attitudes and pessimism,
snappy moments
intended to carve deep wounds
of voided passion,
to swift flick her with his pain.
Today, she flinched
and bent into the dagger
taking it to the heart.
Balance gave way to age.
Steel through soft flesh scathed.
A bleeding heart remained
bound to the wheel
ever turning still,
and his sharpened will
penetrated every feel
she might have felt
had he stopped after one,
stopped the wheel that spun,
unbound her hands,
ungagged her tongue,
and removed the sting of what he'd done.
Blind and folded into time,
frozen forever now is his rhyme.