(Here's the highly-anticipated second installment of this B&B epic trilogy, centered around the "bed" part of the whole equation, LOL! The exciting finale to this trilogy will be here as soon as possible, and will be centered around the "breakfast" part of it, LOL!

Enjoy, and in case you missed the first part of this epic, you can find it here, titled titled "Inn 'N Out (Part I: Breathing It All Inn)" . (giggles) )
*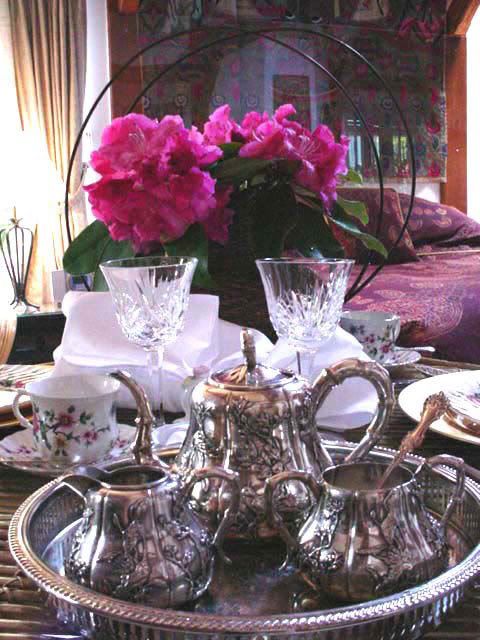 Inn 'N Out
(Part II: Taking It Inn Stride)
By: Noah Eaton
7/10/07
So me and my sister skedaddled toward the stairway,
following the oak banister up to the balustrade,
providing a fantastic view up from the second floor,
of the Shenandoah Valley and the Bullpasture Gorge.
We walked into our room, with our bags by the door,
kicking off our shoes to feel the spotless cherry floors,
we stopped and looked around and about all across the suite,
from the grain-painted wardrobe to the bakelite vanity.
Indeed it had those queen-sized beds with antique brass headboards,
topped with matching handmade quilts that will keep us snug and warm,
it had an 1880's Sheridan cherry drawer,
and a maple commode stacked with old hat boxes galore.
It had flower wallpaper and skylights over the beds,
an album collection replete with barbershop quartets,
a yellow birch bookshelf chockablock with Maud Hart Lovelace,
and vintage Maxfield Parrish art hung all over the place.
A Bokhara spread across the floor near the fireplace,
all the curtains were made of Armenian needlelace,
in the corner of the room sat a Queen Anne wingback blue,
to relax and solve Sudoku puzzles all afternoon.
"I'm going to check out the bathroom!" I confirmed with verve,
eager to test out that power shower that we reserved,
so I walked in, flung open that shower curtain with pride,
but then the next thing I saw scared me stupid with surprise.
There, bathing in the clawfoot tub was an eccentric chap,
wearing nothing but a fruity Carmen Miranda hat,
reciting in pig Latin an ode to his retainer,
with the George Hamilton tan and pale eyes of John Boehner.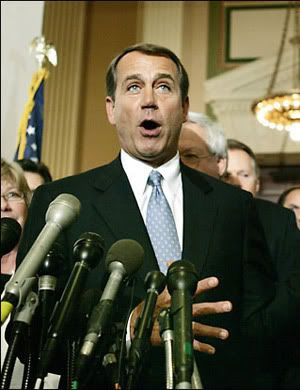 The towel rack was bedizened with raw, plump Cornish hens,
the stranger soaking one in a way I can't comprehend.
We both shouted simultaneously in utter fright,
my sister rushed in to see if everything was alright.
"Who are you," I yelled, "what are you doing in our tub?"
He replied, "Oh, nothing really, just preparing the grub.
The meat tastes best when tenderized for hours at a time,
and the sink's been acting up, so, I simply improvised!"
My sister covered her mouth as though she was gonna puke,
while the stranger played a little ditty on his flute,
Valerie hurried in, overhearing the noise upstairs,
apparently startled by the random state of affairs.
"Holy hippies hob nobbin' with hobgoblins heckling,
helpless human hemoglobins, what the heck's happening?
Have we not had this talk fourteen times already this week,
you're scaring our guests, now get dressed immediately!"
The stranger grabbed a towel and wrapped it around his waist,
then waddled out the room with his perpetually tan face.
"I do apologize for any inconvenience,"
Valerie turned to us and said in a tone lenient.
"That was my nephew in the tub, Tuckasegee McFlea,
he's a bit odd and preternatural as you can see,
but he's also a charming boy behind those hooded eyes,
he just needs some boundaries and structure I would surmise.
Anyway, we'll be serving Cornish hens at suppertime,
so let me just take these and we hope to see you tonight!"
She gathered up the Cornish hens and placed them in a pot,
and zipped quickly out of the room just like a scalded dog.
"Well, that was unexpected," my sister said all haughty,
"he strikes me as a larger-than-life Bob Pinciotti!"
"Can't be any more outlandish than what's in the closet,"
I said, "let's check it out, wonder what they have got in it!"
So we headed over to the closet by the bookshelf,
to see what was lurking behind there in and of itself,
we twisted the doorknob and casually opened the door,
only to get lily-livered and scared stiff to the core.
Lurching upon every shelf were echelons of antique dolls,
cuddled up close together in their conniving cabal,
staring at us with their lifeless eyes that belong on sharks,
missing fingers, flakes off their lips and faces numb and stark.
There must have been two hundred of them, of all discretions,
masking their intrigue with their wide-eyed "who, me?" expressions,
there were Beltons, Tete Jumeaus, and Bahr & Proschilds,
Madame Alexanders and oddities all compiled.
We shuddered with fright, sweating bullets, standing like statues,
involuntarily trembling at the doll's milieu,
I felt like caterwauling but I had lost all my breath,
and my lips got numb thinking of this lovely room of death.
"Holy Dixie's Dainty Dewdrops," I finally had squeaked,
"Jane Withers would kill to have this here camaraderie!
This collection's got everything but Charlie McCarthy,
Lord knows we don't need another one of his repartees!"
"Why don't we shed a little light on this situation?",
my sister said as we looked around with trepidation.
She reached for the light switch hanging in the closet's corner,
trying to brave the enhanced, illuminating horror.
"This must be Schoenhut's collection that he left behind,
this is surely worth millions!" my sister hypothesized.
"Don't touch any of them," I said, "we don't know where they've been!"
"Duly noted!" my sister replied, as we searched again.
"My, there's something very Ligotti-ish about these dolls."
I said as curiosity conflicted with the pall.
"Hey, back when Aunt Rae went to Fort Wright College in Spokane,
he used to tell me stories all the time that made me crack!
He said the college was crowded with flibbertigibbets,
who claim they've seen ghosts, banshees and haunted doll exhibits,
anyway, it was in-between the main cemetery,
and a smaller World War I kirkyard near the armory!
And so half of the Victorian style buildings there,
have these stories associated with them and their heirs,
and the most famous and terrifying one of them all,
involves the doll room in the museum, where the ghastly squall.
It's on the university's third floor, as I recall,
containing about five hundred, maybe more antique dolls,
it's said that whatever's in there loathes having the door shut,
so a sturdy Yale keeps the door open no matter what.
The contents of that room are constantly disorganized,
like those coffins in Barbados or the nastiest pig sty,
I'd bet Steven King dropped by to examine that shocker,
prior to writing the doll scene in 'The Tommyknockers'.
So Aunt Rae shared these stories when she would pay a visit,
recollecting every smidgen of those haunting myths,
ergo, I've been terrified of antique dolls ever since,
they'll always be the bane of my existence!" I evinced.
"Tell me 'bout it," my sister said, "when I was six years old,
I had this terrible nightmare that left me feeling cold!
In it I was being chased around the whole neighborhood,
by a preternaturally fast old woman for good.
I could never see her, I just knew she was on my tail,
always right behind me, like a train that can't be derailed,
so I eventually ran down this narrow flight of stairs,
into a gift shop basement to elude her grave despair.
So I hid behind this bookcase, but since I'm pretty tall,
it only partially concealed me, and there in the hall,
I heard the old lady talk with the owner of the store,
who said she saw no one come in but let her look some more.
She said she had a doll room and invited her right in,
I heard her shuffle into the room where I was hidden,
slowly making her way to the bookcase where I was at,
with no lights on, incarcerated in the cold, pitch black.
I was terrified she would hear my breathing in the room,
or I would accidentally sneeze inhaling her perfume,
finally she reached the bookcase and stretched her arm out wide,
running her frail fingers through my hair and feeling them slide.
And then she says, "Golly, that's a very realistic doll!"
Then she walked away, pacing back toward the entrance hall,
by then, the dream ended, and I woke up soaked in cold sweat,
that day I sold all my Troll dolls to my best friend Yvette!"
"Preternaturally fast old woman…..scary indeed,
reminds me of that old woman scuttling the ceiling,
in that 'Exorcist' sequel 'Legion'!" I said soberly,
making final wincing glimpses at the menagerie.
"Oh dear Lord, look at that one!" I said, pointing to the right,
at a doll with lots of kitschy make-up and crude highlights,
"that looks just like Tammy Faye Baker, post-PTL Club,
that's it, I can't look at anymore, I've seen quite enough!"
We hastily closed the closet shut and sighed with relief,
vowing never again to even dare another peek,
so me and my sister sat down on the end of a bed,
contemplating, "Thank God that's over, what should we do next?"
"Hey, let's kick back and listen to some barbershop quartets…",
I suggested, thumbing through all the albums and cassettes,
"…..let's see…..they've got the Four Tiptoes…..the Bartlesville Barflies,
they've even got the Be Sharps, wow, now that's quite a surprise!"
"No thanks," my sister replied, "I'm not really in the mood,
to hear 'Wait 'Til The Sun Shines, Nellie' twice in a blue moon!"
"Alright," I said, "well…..hmmmm…..we can always play a board game,
they've got Merry Milkman, 4-Cyte, even Mystery Date!"
"Hey, I remember when I was three and Uncle Mort played,
for hours with our dad that Chiclet's Gum Village game,"
my sister said, "alas, I feel a bit burned out right now,
but later I'll play you in Quick Wit, once this day winds down!"
"Ohhhh, you're on," I answered back, with pride gleaming in my eyes,
"…..you know, despite the dolls, the cats, the Cornish Hen Surprise,
and the innkeeper's odd nephew…..this place isn't half bad!"
Then suddenly we heard something scamper from our bath.
I heard my sister utter soberly: "Is that…….a rat?"
I sat speechless, hearing squeaking and wood being chipped at,
and then we saw racing up the stairs and into the room,
all fifteen of Valerie's cats, on a hot pursuit.
The rat ran out the bathroom and into the doll closet,
with all the cats following hot on its trail double quick,
gathering around the closet, forming a pyramid,
with Walter Mitty on top, giving the handle a twist.
The closet opened wide and the cats made their offensive,
taking care of the rat, with some doll damage extensive,
then the cats sprinted out the door like Speedy Gonzales,
the minute they got their prize, pouncing with spunk and solace.
There, all over the floor, laid some scattered doll's heads and limbs,
although most were unharmed, our room looked eerie and grim,
having become a junkyard for two dozen doll victims,
all of them coincidentally the creepiest ones.
"That's it," I said, "we must leave this place immediately!"
"Right," said my sister with sarcasm, "and where will we sleep?"
"I don't know…..Tijuana…..or the Dutch side of St. Marteen?"
I quipped back as I grabbed my bag and stole a fountain pen.
"Look," my sister said, "I'm tired and want to settle down!"
"Sister," I replied, "there might even be rodeo clowns.
Okay, our room looks like St. Louis Cemetery,
and I don't want to eat Cornish hen or 'rat'atouille!"
"Point well taken," my sister replied, "but nevertheless,
how are we going to escape anyway? We're their guests!"
"Why, just rush past them, of course, couldn't be simpler than that,
this isn't rocket silence here, c'mon, let's take a stand!"
"Brother," she evinced, "I'm afraid that isn't an option,"
standing guarding the door with crossed arms and booming gumption.
"You must understand there is a haunted superstition,
that one will have bad luck if trying to escape an inn.
Besides, if they catch us, they'll clamp onto us like leeches,
taunting us with their stomach-churning chit-chat and speeches,
expecting you to answer a hundred probing questions,
about how tall you are, relationships and confessions.
So unless you're up to talking endlessly with those folks,
we must stay out of sight, and dare not having them provoked!"
I stood there speechless, in hopelessness, with my mouth agape,
being reduced to streams of tears, realizing no escape.
"You're right," I said timidly, then interjected: "We're doomed!"
Then my sister hugged me and said, "I know you feel entombed,
but this is just one night, I promise this will blow over,
and come eleven tomorrow, we will break like a bird!"
I sighed and then said, "Alright!" in a dour concession,
sliding into one of my hysterical depressions,
adding, "With just a Waldorf Salad and some German guests,
this would be the real-life 'Fawlty Towers' I would guess!"
So we looked at the Westertoren clock to check the time,
by then my sister said the time was 7:29.
"My God, it's early," I said, "yet, I want to hit the hay,
wake me up when it's all over, I'm calling it a day!"
"Yeah," she said, "I almost never go to bed this early,
as it goes against everything we young people believe,
but in this rare case, I'm willing to make an exception,
after all that travel and that quite awkward reception!"
"It's settled; Quick Wits will be postponed on account of rain,
metaphorical rain, that is!" I said with a straight face.
So we crawled into our beds beneath the handmade quilts,
hearing from the ground floor grotesque laughter and music lilt.
"My God, what's happening down there?" I said, rolling my eyes.
"…that monthly murder mystery doesn't begin 'til nine!"
"Must be cocktail hour," my sister said with certitude,
"wow, they sure have their drinks early here, is there a full moon?"
"No, it's in its first quarter," I said, sighing deeply,
"bet they're hosting a seminar on Scientology,
or some local chapter of the John Birch Society,
all I am thinking right now is 'God Bless Sobriety!'"
So we turned off the lights and tried to get some beauty sleep,
but I kept staring at the ceiling fan most anxiously,
saying, "I've always been afraid of sleeping underneath,
a ceiling fan, with the fear that it would collapse on me!"
My sister shook her head and turned her body on its side,
resting in the fetal position, telling me, "Good night!"
"Good night!" I said to my sister, pulling out my earplugs,
because, frankly, my sister snores, leaving each victim stunned.
<!signature-->