Just.Another.Falling.Star
Member
since 05-08-2008
Posts 427
Canada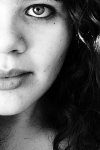 | | |
| --- | --- |
| 0 posted 12-22-2008 08:24 PM | |
---
In her dark and cold room
she sits on the edge of her bed,
waiting for the oportune moment
to let herself break free.

Silently she screams at
everything she's ever known,
its all hurting her...
and inside she's dying.

As this innocent girl
sits on the edge of her bed,
she tries not to look at the ground,
for on it is the invisible horror.

Many times she lay's awake,
trying to forget what happened.
When she closes her eyes the
nightmare just returns.

The floor of her room is tainted
with her forever stolen virginity.
Never will she have it back,
never will she forget what happened.

"When you know for sure its him...
kill him and tell no one."
This is what everyone told her,
but her chance might never come.

This girl sits on the edge of
her bed with a knife in her hand.
She'll tell no one
because she's given up her chance.
<!signature-->

.:~]Julianna[~:.

waiting for you to notice me, touch me, hear me, love me...ask me for something other than gum.