beowulf_26
Member
since 06-29-99
Posts 183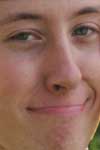 ---

Les femmes.
God's masterpiece, His gift to man.
So fragile to the eye.
So warm to the toutch.
They are made of a fabric apart from all others.
Flowing, each detail flowing into the next.
Strong, adament in the belief that they are worthy.
Alive.
Their emotion beams from them. Their love all consuming.

What else could overcome the pain of spending one's life, working, shaping, loving, laughing, crying, teaching, and worrying only to walk away?

What makes a woman so......divine?
'Tis not thier flesh, even though it is the tangible
product of the ether's design.
Their holiness is because of their minds.
Their wit unparalled folded with allure.
Some charm that one can not resist.
An aroma of mystique. Aloofness only sparks furthur
interest.
These things make a woman.

Their love is a poison. Not to kill the mind or soul.
A poison to kill all desire for anything but them.
Oh to taste that sweet poison only to die again and again
at thier whim.
To be reborne by their love.

I say this to women, "Stand proud and let no one make you think you are any less then my desperatly inadequate account of you. Transcend all doubt and shine as the angels that you are."