Brian James
Member
since 06-26-2005
Posts 147
Winnipeg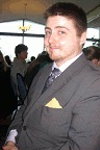 | | |
| --- | --- |
| 0 posted 09-29-2006 07:15 PM | |
---
Tom, do you remember how when we were kids, Megaman was all you ever talked about? And you drew pictures of Megaman all the time and somehow learned all this miscellaneous information about the Megaman universe? I remember that too, because we both loved Megaman, even if I didn't quite so much as you did, so it was fun to spend long periods of time talking to you about Megaman, to invent Megaman bosses and stuff. It was a lot of fun, because we were both losers. But I'm sure there were tons of people who would have hated all the time we spent talking about Megaman and would have found us unbearable, and probably did.

This kind of social problem is very common. I have it nowadays, when it comes to things like the Humanities, and I have to slowly learn that people don't always appreciate it when I tell them stuff about Kierkegaard, even if it's topical! I've been having a hard time lately, but I'm trying to learn some restraint when I realize that someone doesn't especially care for my obsession (and it is an obsession). I might not be succeeding, because most people still can't stand being around me.

I think this analogy might bother you somewhat, since you're always so good about entertaining my obscure literary references. But Tom, I just don't like the gay culture. It's nothing personal, and I wish you wouldn't take it that way---but I hate talking about it, I hate hearing about it, and I wish we could just find other things to talk about once in a while. I tried to be good about it for a while, as an opportunity to talk about Oscar Wilde and Plato, and make some fun jokes at the expense of Thomas Aquinas. But now I dread seeing you because I know it's going to be the same old thing every time---that there's some new gay issue that you want to talk about, that you wrote a poem about the public's treatment of gay people, and such.

When we were kids, I would have said that someone would have to be crazy not to think it's heaps of fun inventing Megaman bosses, talking about the Megaman universe and having pajama parties where we play Megaman together. I would have even thought it was awesome if Megaman fans spawned a subculture wherein people of all ages identified as "Megafans" and spent most or all of their time talking to one another about Megaman, dressing up like Megaman, and demanding recognition as a unique social group. But now I'm starting to see that these obsessions act as a barrier that keeps us from achieving true human contact.

I wish we could be friends in spite of your new interest, because you're a smart guy with a good sense of humour, and there's lots of other stuff we have in common. I just wish that everytime I tried to interact with you, I wasn't interacting with the entire gay community.