Kaoru




Member Elite
since 06-07-2003
Posts 3888
where the wild flowers grow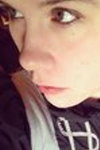 | | |
| --- | --- |
| 0 posted 08-26-2005 04:58 AM | |
---

I have escaped the cruel grasp of my now ex-boyfriend, but it happened under bad circumstances.

I know now, unlike when I was younger and in past relationships, where the line is and when it is crossed.

The father of my child and I had a wild fight yesterday morning, and I came to the conclusion that I really should have left a long time coming. When neither of us can control ourselves, it becomes painfully obvious.

I have gone through a whole spectrum of emotions in the past day/night. I cannot sleep for several reasons, one being that I am back home again, and I haven't slept here in a long time.. it's hard because it's hot outside and I have to take care of my daughter all by my lonesome today and I'm exhausted..mentally and physically.

Unfortunately, as much as I did not want to leave where I'd become comfortable, I made the wise choice to act on emergency. My mother drove 3 hours to pick me up and bring me here. I feel very concerned with what my next steps will/should be.

I feel like I have been leading a double life. I am starting to understand why I felt so much confusion and stress...

One part of me was at home all day, loving on and playing with my daughter. But when she went to bed for the night, I would leave the confines of my ex's parents house and go over to my friends house to drink and have fun. I am too old, or too young..I can't decide which.. but as a mother, I should've known better than to do anything like that on a regular basis.

Maybe a big part of me was trying to catch up on lost time, or time I felt I'd never have otherwise. All I know is that despite my other life, I still came forward and owned up to my responsibilities. That's not a valid excuse, though.

On monday I am scheduled to see a therapist, and to determine whether or not I have developed a dependancy to alcohol. I am deeply ashamed at myself for digging this grave, but it is my duty as a mother to make sure I am perfectly ready to do what I must do instead of what I want or feel like I need to do.

I feel somewhat proud in my logical decision even though all the decisions around it were illogical. I know that I love my daughter more than anything in this world and now that I have come home, I can be sure not to do anything horrible like before.

I feel a vast amount of guilt and sadness for my actions, but I have no clue how else to deal with this other than to talk about it. I hope all goes well...