Susan Caldwell
Member Rara Avis
since 12-27-2002
Posts 8464
Florida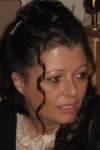 ---

I hate them.

I haven't been able to look at hardly anything here today...

and when I see a favorite has posted but I don't have time to read...

ahhhhh...

It's like mowing the lawn and seeing the neighbor with a beer and I don't have any...

(if I actually did lawn work that is how it would be).



back to utilizing your tax dollars...

<!signature-->

"too bad ignorance isn't painful"
~Unknown~