*Alli4000*


Member Elite
since 03-21-2004
Posts 3212
The World of Poetry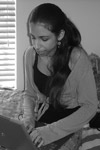 | | |
| --- | --- |
| 0 posted 09-27-2004 04:41 PM | |
---
Ok...please! I need advice on this sometime before tomorrow.

Ok, here's the problem...my friend Robert and i were talking on the bus on the way home. He was all depressed, so I asked him what was wrong. He said that in one of his classes during the day, a girl that he used to like came up to him and said that she liked him and wanted to know if he wanted to be her boyfriend. Robert turned her down, because although he still has like alittle feelings for her, he just doesn't like her the same way. (hard to explain

)
He said that he turned her down, because your first boyfriend/girlfriend is suppost to be someone special and you will remember them for the rest of your life.
Problem: He's having second thoughts about turning her down.

My bus stop came, and I didn't get the chance to finish our conversation. When I see him tomorrow, I know we're gonna begin to talk about it, and i want to have something to tell him, some advice.

I guess, what I'm trying to ask, is what you would do if you were in his situation? If this has happened to you, which path did you take? Was this the right one?
Any thoughts on the subject would be appeciated...I'll be seeing him tomorrow around 8, but wont be able to use the computer after 6 in the morning. So if you have a reply to the subject, please post it now or sometime before 6 tomorrow morning.

Thank you sooo much!



~Alli~
<!signature-->

*:.AIM = Alli4000.:*
Donít cry because itís over, smile because it happened...