Mysteria








Member Laureate
since 03-07-2001
Posts 19652
British Columbia, Canada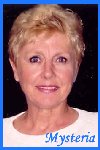 | | |
| --- | --- |
| 0 posted 09-23-2004 01:55 PM | |
---
You know, I have friends that I treasure and that I have actually seen from these blue halls of Passions, thanks to Ron's generosity of this site. I can't imagine my life without them in it. However, I also have friends whom I have never met, and probably never will either that are equally as important to me in my life.

I got to thinking today, the intensity of caring is exactly the same for both groups, and when pending danger approaches the feelings of helplessness is almost too overwhelming. With someone close by you can drive there, take a bus,etc, but with friends over 3,000 miles away then what? Sure, you could hop a plane, but in the wake of these hurricanes your hands get tied pretty tight. So I wait, watch, and hope it goes away I guess.

Up until coming to this site I had no idea how strong the powers of Nature truly were. I appreciated her gifts and grace, but never paid much attention to her outrage, and destruction having never seen it here. When I have friends in the path of her wrath, I don't sleep, eat, and worry myself sick until all is well, which of course does absolutely no good at all, and is certainly no good for me.

My question is how are you dealing with the fact that you have friends in places too far away to help, and do your friends or family think you are crazy and say, "Sure it is tragic, but you don't even know them?" This infuriates me to no end.