Kaoru




Member Elite
since 06-07-2003
Posts 3888
where the wild flowers grow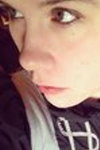 | | |
| --- | --- |
| 0 posted 10-02-2003 04:10 PM | |
---
"I hate myself. I hate my sub-genre of emotions, I pity myself. Pity; the most insulting of all things. But I also hate. I hate and pity myself."

This, is my mind's choice of retreat.
This, is how I repay myself for solitude in the night. What am I becoming? Am I de-evolving somehow?

Yes, I do hate myself, and that is my one true weakness. My self-loathing, my self pity. I hate my emotional turmoil, at times, wishing I felt nothing at all but hate and love. The two most logically basic of emotions.

Somewhere along my way, I reached a point of awareness, I've gained wisdom. The problem with getting toward the peak of my journey, is that I can't even partially overcome my self-loathing. It isn't a matter of being fully rid of it, I must have it in order to be equal. But I also must lose, and control some of it. Make it a slave to me, and not the other way around.

My biggest flaw, is being human. I too, can be ignorant and arrogant..even closed minded. But this, I have and am able to accept and lessen.

I am aware,
I am fully aware.

This is why I struggle with my emotions, I should merely be. It should not be as extreme as it is, my self-loathing. It should just...be.

But I know this flaw, again, I am aware. I know it must be fixed, I need to attain control. Because, I will not cross any bridges if I remain in my self's pity..and under it's control.

I must fight it, or perish under the same circumstance as the rest of the world.