Sunshine
Administrator
Member Caelestus
since 06-25-99
Posts 67715
Listening to every heart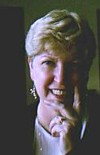 | | |
| --- | --- |
| 0 posted 10-27-2002 12:32 PM | |
---

You have worked hard and long all of your life, and the things that meant something to you...are left behind, with scraps of notes in your own handwriting, as to what belonged to whom, where it came from, who last used it, what it was used for...

and then, you're gone. And your only child...just doesn't care.

So everything is piled up into an auction, and strangers, and some family, and people who have known you your entire life, come around to see what was left behind, to pick over pieces that perhaps they gave to this person, to try to buy it back, or to keep some of the family keepsakes that are now up for auction before this crowd of strangers. Your small articles and several clippings, your love letters, your music, your books, your poetry...all being fingered by strangers with little regard, or touched lovingly by a cousin or niece or newphew wondering "why didn't she know, I would have wanted this?"...

and then they have to bid for it, just to keep it in the family.

All auctions have a life's blood of work left behind...think about it the next time you visit an auction. Someone's hands knew this piece of "nothing" to be of actual value...and they just did not get the time to send it to the person who would value it the most...

think about it. And know, someone out there believes that it, too, that little piece of something that you treasure so much, has worth.

Someone.

Like me.