Allysa



Member Elite
since 11-09-1999
Posts 2307
In an upside-down garden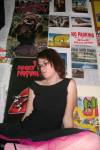 | | |
| --- | --- |
| 0 posted 07-13-2002 12:59 PM | |
---
I doubt many of you know who I am, but those who do might *fondly* remember my ex-boyfriend, the one, the only, Justin.

Yeah, okay. He called me on a Monday a few weeks ago and the previous day, apparently he had called me to see if I could go to a festival with him but I wasn't home. He asked "where were you?" and I replied "I went to church with Cody." and he kept on asking me where I was on specific dates and since I spend the majority of my time with Cody, I just replied that I was hanging out with friends and he asked "which friends?" and I replied "Cody" because I want to be truthful with everyone. So, Justin got all funny and said "I want to meet this guy so I can shake his hand and tell him how lucky he is for getting such a wonderful girl and how lucky he must be to be such a wonderful person and be able to make you happy" and everytime he would ask me where I'd been and I'd reply "with Cody" he'd say the same thing over and over and over again.

Now, I have for a long time been able to realize that communicating with Justin in any means is in fact rather bad for my health. He's hit me a few times (god that sounds worse than it is) and he's done a few other things and he verbally abuses me a lot. I can't necessarily say my opinion of him around here, but that's all right. I'm fed up with him and the stuff he pulls and I know it's bad for me to be hanging around him. I told him a few weeks ago to not call me anymore and that I didn't want to talk to him. So he had his cousin, who is a really close friend of mine, call me and try and get me to go over to my old neighborhood (where Justin lives) and bring Cody with me. I really didn't think that was such a good idea because Cody hates Justin and Justin hates Cody and they've never met. So I didn't go over there. Justin talked trash about me and Cody the entire time I was on the phone with his cousin and I am so sick and tired of him. He beats people up, doesn't care about getting in trouble or anything, and I'm scared that he's going to do something. I don't think he'll do anything to me, but I don't know what he'll do to my friends or, for that matter, Cody.

Thanks, I just needed to get that all out of my head.