Sven



Member Laureate
since 11-23-1999
Posts 15611
Lansing, MI USA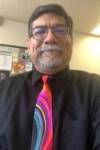 ---
The Mass for Peace in Our Time is a group of poems, based on the form of the Roman Catholic Mass that will form a total piece that I hope to be able to set to a musical form one day.

You'll notice that some of the poems will be for Celebrant and Assembly. Other poems will be for Readers and for Cantor and Assembly. There are also three meditations based on the Bible Readings that I've chosen for this setting as well as my own re-writings of the standard Roman Catholic Mass parts (Kyrie, Gloria, Eucharistic Prayer, etc.)

Also to be included are an Opening and Closing Hymn, a Metrical setting of the Psalm reading, and other pieces that will communicate the feelings of Peace that I hope to show here.

Inspiration for this piece was taken from Leonard Bernstein's MASS, which is a "theatre" type piece based on the standard Roman Catholic Mass setting with staged scenes in-between; and from Benjamin Britten's War Requiem, which is a setting of the Roman Catholic Requiem Mass interspersed with settings of poems by the British poet Wilfred Owen.

For more about these two pieces, go here:
Mass Text
War Requiem Text

---------------------------------------------------------------------------<!signature-->

To the world, you may only be one person. But to one person, you may be the world.