Raven Skye
Member
since 03-03-2001
Posts 118
.In a House.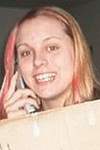 | | |
| --- | --- |
| 0 posted 06-24-2001 02:52 PM | |
---
So I'm here to discuss trends. Someone a couple weeks ago called me trendy and it really irked me. Why? I don't know.



I never considered myself to be "in style" or part of the crowd. In my first and second year of high school, my clothes were all dress down and comfortable. Sometimes they still are but lately I've been one to dress up. It makes me feel good about myself and it makes me feel special. I know I shouldn't listen to what other people say but when that boy a couple weeks ago called me trendy because I had a Papa Roach shirt on one day and a skirt on the next day, it made me really think about myself and other people.

Everyone is trendy in there own little way. I think even calling people trendy is becoming trendy. For example, my friend joe and I were IN LOVE with Korn (rock music group). Now this wasn't just a 1 year thing. For 4 years of our lives we've loved Korn. All of a sudden Korn, like Blink 182, Green Day, and other famous Rock/Punk bands started going mainstream and turning more pop. Now bands by that name are considered trendy! Now rock/punk bands have to watch out that they don't make it mainstream in fear of becoming trendy. It's supposedly "Bad for their repuation".

I don't see how it's bad for your repuation. You become famous and have an even larger fan base then before. Meaning more ticket sales, more merch. sales, more cd sales, more coverage. It's A LOT better. So what's wrong with it!!!

Well there are many other things that could be discussed under trends and what's trendy or not but I feel I made this already to long. So my question to you guys is:

What really is being "Trendy"?

Thank you all for your time!! And sorry to the older members who have NO idea what I'm talking about. Teenagers in this society are crazy...I'm one of them.



<!signature-->

*×´¨`·.×*Raven Skye*×´¨`·.×*
Don't just trust yourself,
learn what parts of yourself to trust.