serenity blaze
Member Empyrean
since 02-02-2000
Posts 28839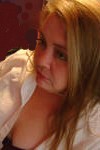 | | |
| --- | --- |
| 0 posted 06-13-2001 06:13 AM | |
---
I don't know how to explain this--but I am a sort that embraces the obverse--and I LIKE turning forty.
I like the biblical symbolism of it--I like the rituals I am wittingly or unwittingly participating in...I do enjoy the fact that it did INDEED stop raining for my b'day. Perversely? I like it ALL. I like the way the gray has grown into my hair---highlights of tinsel to swoop and curl around my face---sue me--I LIKE it.

I don't mind the tiny lines and wrinkles. And the big ones? Hey...I don't have to look...and yet at the same time, don't ask me to erase a memory to please a line of your palette. Don't ask me to overwash the opaque, or dwell too long in a charcoal's shadow. Don't tell me that beauty is a coveted dream of anorexia--and that clothes should hang on a woman with the same finesse as a wire hanger. Don't tell me happiness is found in the hand-carved ivory bowl of a pipe. Well...don't ask me for a light, not right now, anyway.

So many variables of life--why even now attempt to choose? How many sums reduce to PI? (forgive me, I left school too soon...)

see? I am thinking in rhyme.