LoveBug


Moderator
Member Ascendant
since 01-08-2000
Posts 5015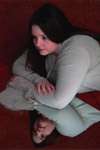 | | |
| --- | --- |
| 0 posted 04-23-2001 03:38 PM | |
---
I probably shouldn't be venting like this, but I'm going to anyway. I know that there are worse things that could happen, and that I'm probably going to sound like a little brat, but oh well...

Well, on Wednesday we are going in and choosing our high school majors. My parents have already told me that they want me to go into science. I pretty much went along with it, although I would really like to major in the fine arts... heck, what can ya do? I was even planning on trying to quit writing when I got into college, since it would take all of my energy to get through those horrid science and math classes (and math is NOT my thing!). Last Wednesday, however, I had an experience that really helped me see things a bit more clearly. It helped me realize that my calling is writing. I know that I'm not very good, but I know I can't just give it up and blindly thrust myself into this bottomless pit just because it's what my parents want!

Well, I talked to my father about it a few minutes ago. "NO". Just like that. I tried arguing my point. I could have sworn my older sister is in the WVU school of journalism, and that my sister's career major is the fine arts, also! No, I couldn't change. I'm going to be a microbiologist. It's bad enough that I won't be an MD, isn't it?

I don't know what to do. I'm seriously considering running away from home. There's really nothing for me here. If I could get ahold of the money thats in my bank account without my mom's signature, I'd probably be on my way right now. I'd walk if I had to! I'd have no idea where I would go, just as far away from here as possible!

Well, there's my little vent. Hope it didn't make you cringe too much!





<!signature-->

"Men judge generally more by the eye than by the hand, for everyone can see and few can feel."-Machiavelli
Blame Canada!