serenity blaze
Member Empyrean
since 02-02-2000
Posts 28839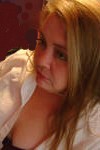 ---
Happy Mother's Day?

For mother's day I'd like my pelvis to snap into place, and my neck (I don't care if I see stars) but yes, my neck, and my right knee and my left ankle--

I want them ALL to pop miraculously into place!

Just not all at once.

I might pee if that happened.

Oh what the hell..it's a holiday--

BRING IT ON!!!