Temptress
Moderator
Member Rara Avis
since 06-15-99
Posts 7276
Mobile, AL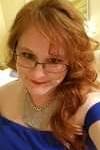 | | |
| --- | --- |
| 0 posted 12-09-2000 11:29 PM | |
---
*KICKS AND SCREAMS* Is anyone else working long hours to stay ahead during the Christmas holidays? Geesh, I'm so tired that I don't even feel like reading much poetry lately (apologies for that, but sometimes it just happens) Also, between Christmas parties to bake for, and shop for, I don't have much time for working on something relaxing like my Christmas ornaments.

So, am I taking on too much or what? My husband said he'd glady bake the pies for his own Christmas party at work, but I insisted on doing it myself. It won't do any good to ask "why don't you just buy something", because since I know how to bake homemade desserts, I like to use that knowledge...not to mention the fact that I enjoy it a lot. Poor poor husband got the bad end of the I-can't-find-my-cookbook-with-my-special-chocolate-pie-recipe rant.

I'll have to make it a point to apologize if I happen to catch a glimpse of him through a sleep induced haze tonight when he gets home from work. LOL! Here it is almost 11pm, and I'd like to stay on here longer to enjoy myself, but I'm just too tired.

WILL SOMEONE BUY ME SOME TIME FOR CHRISTMAS? PLEASE? Ohh...and a chocolate pie recipe since I can't find my own? I also would like a clean room (which I haven't had time to do), some good conversation on the phone with a few friends, a fresh notebook, some lit candles, and my favorite pen. I guess I'm going to bed now since I obviously need it. Maybe next week I'll get some sleep. I worked Monday through today without a day of yet, and I won't have a day off still until Thursday (whaaa right?) I took it all on myself though. Laters everyone! Thanks for listening to my insane sleep deprived ranting about the mundane details of my life right now.

(((HUGS)))
<!signature-->

My name isn't Baby, and I don't want to cyber.