Temptress
Moderator
Member Rara Avis
since 06-15-99
Posts 7276
Mobile, AL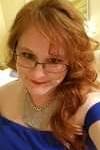 | | |
| --- | --- |
| 0 posted 10-03-2000 09:52 PM | |
---
Ya know how most of us tend to dwell on the negativity of our day? Well, here is perhaps a thread that will give some positive energy to the dreary grind. Lets see if we can do this.
I've asked the question..."What did you accomplish today?"
Now lets here some answers.

I will check this in a few days.
Starting with me.

I FINALLY went to the local college and picked up, Financial Aid form, Admissions Form, and a book that has the course listings, etc. I am going back to college, and if it takes me until I'm 35 to finish, then so be it!

I feel wonderful that I even had the drive to go there and get the necessary papers today to start thinking about the Spring Semester.

I also managed to NOT fight with my husband today while out running errands with him.

I also managed to feel good about compliments on weight loss and my new haircut instead of feeling like someone was just sugarcoating things.

Hows that? Anyone else? I'll be interested to look at this again.



<!signature-->

My name isn't Baby, and I don't want to cyber.