Mysteria








Member Laureate
since 03-07-2001
Posts 19652
British Columbia, Canada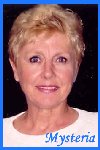 ---
http://www.mytelus.com/news/article.do?pageID=canada_home&articleID=1797667

http://www.canada.com/vancouver/story.html?id=85f825fc-78a8-4aa5-bd95-7962fa1e7eb2

I read around and discovered that in our country there are no safe havens for Mothers to just go and leave children without any questions, as in the United States. Here they risk child endangerment charges for abandoning children. I thought about this and in my opinion those "safe havens" are not a good thing really. How would the child's "roots" or medical history be known?

This child is obviously going to be better off wherever she goes, but I wondered what kind of despair would cause a Mother to leave a child a few days old out in this cold, hoping someone would find her in that bag? This Mother had her own reasons for doing this, and hopefully she loved that child enough to know she would be found, and was hiding to see so, or at least I would love to think so. There is no way to judge her I don't know her. I do however feel sorry for her.

So, I wanted to show you that one child somewhere is going to have a better Christmas next year.